[Index | Art | Poetry | Writing | Books and Authors | Help!! | About Me! | Rings | LOTR]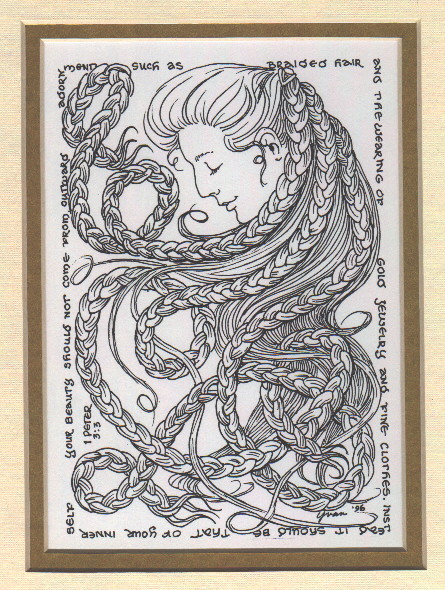 I wanted to create a free-form knotwork design and had an idea about using braided hair to weave instead of an abstract design. When I finished the face and hair, I was reminded of the scripture about what true beauty is....NOT in plaited hair, but from the inner-self, the spirit. I think this image illustrates both kinds of beauty well.
Your beauty should not come from outward adornment, such as braided hair, the wearing of gold jewelry and fine clothes. Instead, it should be that of your inner self, the unfading beauty of a gentle and quiet spirit, which is of great worth in God's sight.
1 Peter 3:3-4
[main page |Fine Art |Daffies |Dax |Hair |Speech]

This page last updated October 20, 2002.